Przykro nam Twoja przeglądarka nie obsługuje animacji Flash. Proszę pobierz najnowszą werjsę wtyczki dla Twojej przeglądarki - Adobe Flash Player
Skontaktuj się z nami - tel.
(22) 510 14 50

lub handlowy@rscautoid.pl
Shrink-Sleeve Applicator SHM HS2

nazwa alternatywna:

aplikator shrink sleeve, shrink-sleeve applicator, finpac, shm hs2

Produkt dostępny w magazynie
SHM HS2 to aplikator rękawów termokurczliwych z zaawansowanej technologicznie przemysłowej serii HS.
Na pełny system aplikacji etykiet typu shrink sleeve składają się maszyna aplikująca rękawy termokurczliwe, tunel obkurczający, przenośnik, system kontroli i rejectu.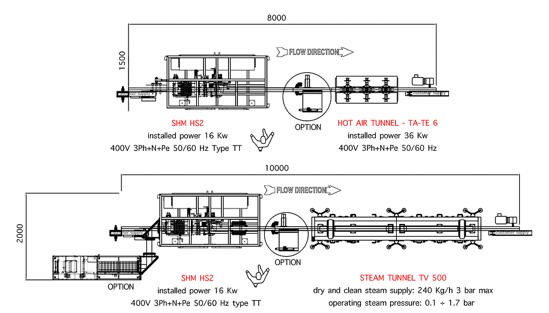 The HS series are heavy duty industrial machines, developed for high range productions with the most advanced motion system and mechatronic design.
Technical details
Rozmiar opakowania
Śr. min.32 mm - max 107 mm, wys. max 330 mm
Rozmiar rękawa termokurczliwego
LF od 53 mm do 171 mm, CL od 28 mm do 320 mm
Prędkość operacyjna
Full Body - do 36.000 bph; Tamper Evident - do 42.000 bph
Przyłącze elektryczne
400V 3Ph + N + Pe, type TT 50/60 Hz, 16Kw
Waga
Ok. 1500 kg