PRODUKOWANE ETYKIETY I OPAKOWANIA
CHECK OUT THE BEST QUALITY LABELS AND PACKAGING
FROM RSC AUTO ID PRINTING HOUSE!
SELF-ADHESIVE LABELS

Self-adhesive labels are one of the best way to identify products in all sectors of the market. Depending on the application, they are printed on paper or foil with the proper adhesive. A wide range of materials and impressive finishing capabilities make it possible to produce even the most demanding projects.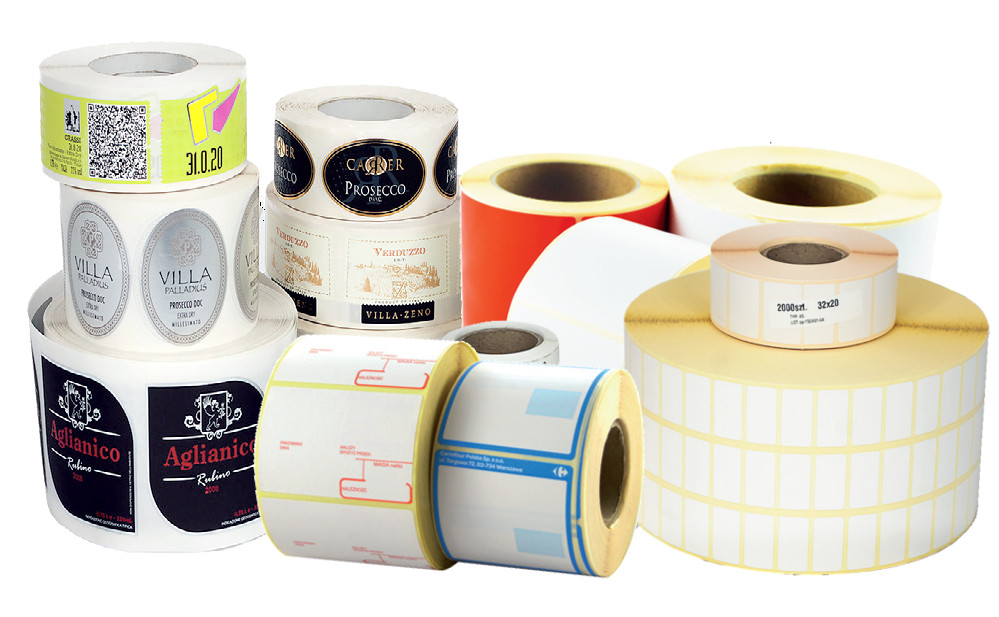 | | |
| --- | --- |
| Adhesive labels that can be printed on laser and inkjet printers. This form of labels aims to improve basic activities in office (letters dispatch, office organization, multimedia marking) – through ready label sheets printable by standard office devices. It is possible to fit various formats of labels in various quantities in A3, A4 format or smaller on customer's demand. | |
WRAP-AROUND LABELS
Stosowane przy znakowaniu okrągłych opakowań takich jak np. butelki, pieczywo, kabanosy, kable, rury. Produkt owinięty jest foliową lub papierową etykietą, która przymocowana jest przy pomocy nałożonego na dwóch końcach kleju.
SHRINK SLEEVES
Rękaw wyprodukowany z folii termokurczliwej PVC, przylegający do ścian opakowania, dając możliwość pokrycia nadrukiem całej jego powierzchni. Etykiety te nadają elegancki wygląd, a dodatkowo pełnią funkcję ochronną. Chronią zawartość pojemnika przed promieniowaniem UV. Shrink sleeve może dodatkowo stanowić zabezpieczenie produktu przed otwarciem jako plomba gwarancyjna.
- Protecting content of the package from UV and sunlight
- Covering all the package surface with print
- Securing the product from opening – security seal






IN-MOULD LABELS

Etykieta wykonana na takim samym materiale co opakowanie. Etykieta jest najpierw zadrukowywana, a następnie wtapiana w procesie produkcji w jeszcze płynne tworzywo. Technologia ta ujednolica opakowanie z etykietą i uniemożliwia jej usunięcie.
HANGTAGS
Zawieszki/przywieszki o różnych kolorach i kształtach wykonane z kartonu lub tworzywa. Można umieścić je na produkcie na wiele sposobów, choć na ogół mają charakterystyczną dziurkę ułatwiającą przymocowanie np. do odzieży. Można je zadrukować z jednej lub dwóch stron lub nakleić na nie dodatkowąetykietę samoprzylepną. Mogą być perforowane w celu ułatwienia oderwania części metki.
TEXTILE LABELS

Stosowane w celu znakowania wyrobów tekstylnych wszywki wykonane są z satyny, nylonu lub poliestru. Można je zadrukować jedno lub dwustronnie. Informują o producencie, składzie materiału, jakości, instrukcji prania i prasowania.
RFID LABELS

- Identification by data radio transmission
- Production tracking
- Identification of goods and products
- Mechanical factors and chemical substances resistance
- Security labels






FLEXIBLE PACKAGING

Elastyczne opakowania wykonane z folii - np. torebki lub saszetki - do stosowania wszędzie tam, gdzie potrzeba miękkich szczelnych rozwiązań, np. branży spożywczej czy kosmetycznej.
TYPES OF LABELS
We meet labels every step we take – in shops, at home, at work, in the car, in the garden. Labels are universal carriers of information as far as products are concerned, and the basis for each working system connected with goods circulation, from production to sales. Besides information, labels have also the function of decorating, closing and even securing.
Food:
- Low migration inks, water-based inks
- Certified top coating for contact with food
- Understandable information of product composition according to EU up-to-date directions
- Materials suitable to the place where the product is stored
- Laminates fitting the package surface

Alcohole:
- Beer – no-label-look labels, humidity resistance, thermo-sensitive inks, hot/cold-stamping
- Wine – dedicated bases, humidity resistance, labels adapted to long term storage
- Other alcohols – no-label-look effect, serigraphy, hot/cold-stamping, multicolor print
Cosmetics:
- Water, grease and chemical resistance
- Often used no-label-look labels and shrink-sleeves
- Flexible labels adjusting to the shape of the package
- Decorative labels, hot- and cold-stamping
Household chemical product:
- Water, grease, and aggressive chemical substances resistance
- Caution symbols
- UV and sunlight resistant
Industrial chemicals:
- Very high water, grease, and aggressive chemical substances resistance
- Caution symbols
- Mechanical factors resistance
Promotion / Retail:
- Fluorescent labels
- Opaque/cover type labels
- hangtags

Durable products:
- Labels that don't leave any trace of adhesive
- Informative, decorative labels
- Resistance to various factors during the whole cycle of use
- Variable data print
- Durable label type: nameplates, PVC foils, void, holograms, crumbling foils
Transport logistics:
- Standard universal resources
- Mechanical damage resistance
- Multilayer labels – Triplex
- Variable data print
- Information markers
Automotive:
- Tires – resource of a Tyre-type
- Durable labels
- Resistant to extreme conditions
- Labels not leaving any trace of adhesive

Gardening:
- Wide assortiment of tags
- Multicolor prints
- Weather conditions and dirt resistance
- Plastic or aluminium plates
Pharmacy:
- Restrictive quality requirements
- Dedicated material
- Low-migration inks and adhesives
- Numbered labels

Services:
- Digital label print
- Printing of the variable data on labels with thermal transfer technology
- Printing of the variable data with digital or inkjet technology
- We assure the verifiability of barcodes according to ANSI norms