Przykro nam Twoja przeglądarka nie obsługuje animacji Flash. Proszę pobierz najnowszą werjsę wtyczki dla Twojej przeglądarki - Adobe Flash Player
Skontaktuj się z nami - tel.
(22) 510 14 50

lub handlowy@rscautoid.pl
MAK 1, MAK 01, MAK 02 (SMALL NUMBERS)

nazwa alternatywna:

MakroLabelling labelling machine, Mak 01, Mak 02, Mak 1, mak01, mak02, mak1, mak-01, mak-02, mak-1, makrolabelling mak 1, makrolabelling mak 01, makrolabelling 02

Produkt dostępny w magazynie
LABELLING FOR SMALL NUMBERS
MAK 01, MAK 02 and MAK 1 are Makro Labelling designed labelling machines for companies which do not require high speed productions. The machines maintain the special characteristics of Makro Labelling technology and are equipped with mechanical or electronic bottle holder plate rotation. The 520/780-mm carousel is covered with AISI 304 stainless steel sheet metal. MAK 01, MAK 02 and MAK 1 are produced in various cold and hot glue, self-adhesive or combined versions. On request, the optical centring device (4, 6, 8, 9, 10 or 12 plates) can be installed on these three models. The innovative Follower optical centring device can be installed on the MAK 02. Production speeds vary from 1.500 b/h to 12.000 b/h.
Available units:


SELF-ADHESIVE LABELLING UNITS


COLD GLUE LABELLING UNITS


HOT MELT LABELLING UNITS


ROLL FEED LABELLING UNITS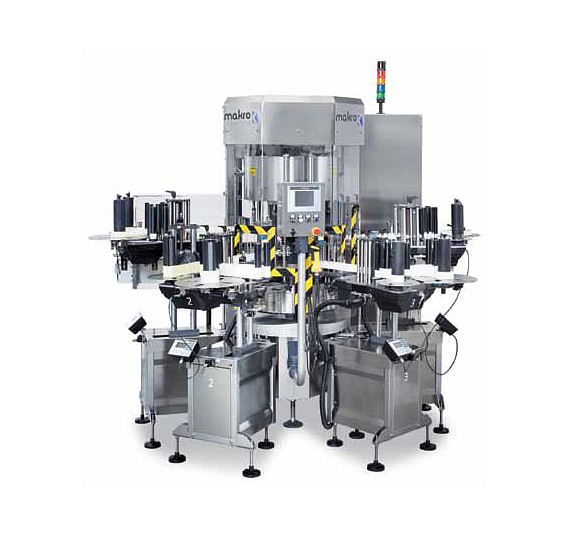 Technical details
Model
MAK 01 / MAK 02 / MAK 1
Turret diameter
520mm / 780mm / 520mm
Labelling Units
4/5 / 4/5 / 4
No. of Platforms
4, 6, 8, 10, 12 / 6, 8, 9, 10, 12 / 4, 6, 8, 10, 12